The SANTA CRUZ Research Project studied the former Monastery of Santa Cruz, one of the main Portuguese religious houses, and its situation in 1834, when religious orders were suppressed and their wealth was integrated into the state, sold or sent to museums. As a consequence, important parts of the former monastery were destroyed in the following decades. The Town Hall building, now side-by-side with the monastic church, was built between 1876 and 1879 over the former Renaissance entrance cloister. Other elements were lost, cases of the library and dormitory and the imposing bell tower, destroyed in 1935.
Most locals and foreigners are totally unaware of the monastery's past magnificence, located in the heart of Coimbra's downtown. The Santa Cruz Monastery was also central to the city's urban evolution, presiding over Rua de Santa Sofia, the "Street of Holy Knowledge", a Renaissance street of colleges, 481 yards long and 6,6 yards wide. At the beginning of the 20th century, it was along the Santa Cruz valley that the main artery of Coimbra, Sá da Bandeira Avenue, was opened, a new boulevard that connected the old downtown to the new expanding city.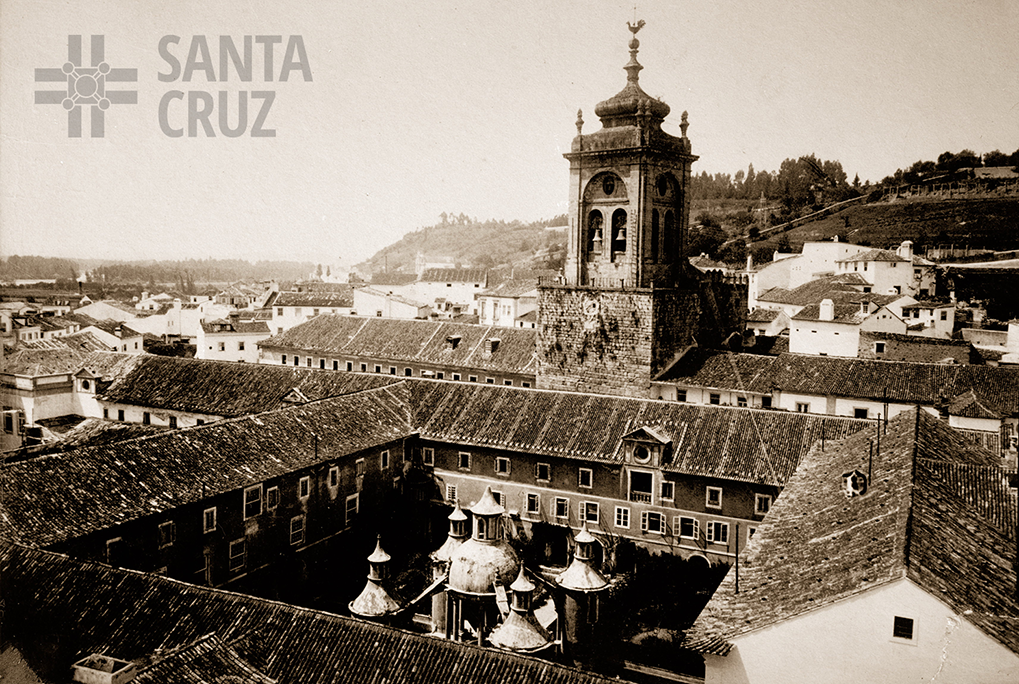 The SANTACRUZ Project, based at the Center for Social Studies (CES-UC) and at the Department of Architecture of the University of Coimbra (DARQ-FCTUC), aimed to collect and systematize documentary and iconographic information about the monastery's architectural history. At the same time, it was our intention to elaborate a 3D digital reconstruction of the monastery in 1834, including parts that have disappeared today, such as the façade of the monastery, the Entrance and Manga cloisters, the dormitory, the library and the bell tower. We also have tried to reconstitute the original layout of the magnificent sculptural ensemble of Hodart's "Last Supper", which presided over the refectory and which is now exhibited at the Machado de Castro National Museum.
The 3D models can be visualized on the spot through smartphones and tablets, by activating QR codes along seven "hotspots", exploring the concepts of "VR/Virtual Reality and "AR/Augmented Reality".
In parallel, we developed a series of architectural proposals for the rehabilitation and reformulation of the remaining monastic structure and the surrounding area, contemplating the installation of an interpretive museum center, in order to trigger public debate on the future of this area, absolutely central to Coimbra's future development.
The SANTA CRUZ Research Project (POCI-01-0145-FEDER-030704) started on 1st July 2018 and ended on 30th June 2022.